3P AND THE CHURCH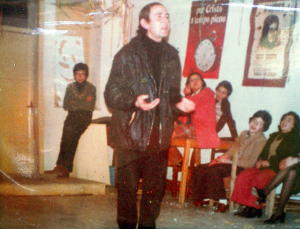 Don Puglisi lived deeply embedded in "his" Church, he shared its joys and tensions, he was able to anticipate its directional changes like a pioneer.
Furthermore he always rejected the logic of "career" in the diocesan offices. When someone called him "monsignor", he jokingly replied " Monsignor say it to your father".
Son of a shoemaker and a seamstress, he was ordained in July 1960 and arrived in Brancaccio in October 1990, with thirty years of priesthood behind him as well as a series of very different experiences, but all in the name of dialogue.
In the sixties and seventies, during the student protests, Padre Pino spoke with young people who professed themselves communists, sitting with them at the table of a tavern when throughout Italy there was fierce opposition between right and left.
He not only taught catechesis but also sexual education to boys and girls together when even Catholic Action forbade certain "contacts".
He was a parish priest in different suburbs of the city who consistently pushed his Church into the street. And he began to question himself about the meaning of human existence when the Second Vatican Council and its existential reflections were yet to come.
Moreover, he preceded the revolution of ecumenism, dialoguing with the Protestants in Godrano, a town in the province of Palermo where he was parish priest in the seventies.
Throughout his life his attention, marked by serenity and patience, was dedicated to evangelization of the poor, the humble, the voiceless and perhaps even the hopeless.
He became an eye for the blind, a foot for the lame, he became "all things to all people" (1Cor 9.22), to quote one of the reflections of the Letter to the Corinthians that was dear to him.
The joy and happiness of Don Pino were as contagious as his sense of the Catholic community.
He was in charge of the Vocational Centers for Palermo, later extended to the entire region, and he organized school-camps, where, within the framework of the activities of these structures, the diocesan priests and the religious worked side by side. Jesuits, Franciscans, Passionists … others – beyond their previous experiences and their different formations – found themselves in his initiatives in a full familiarity that unfortunately still today it is difficult to create within the Church, often so divided in relations between the various Orders and parishes.
Father Puglisi loved his Church, like a mother.
And so, he explained, with a joke:
"We can, we must criticize the Church when we feel that it does not meet our expectations, because it is right to try to improve it, but it must always be criticized as a mother, not as a mother-in-law!"